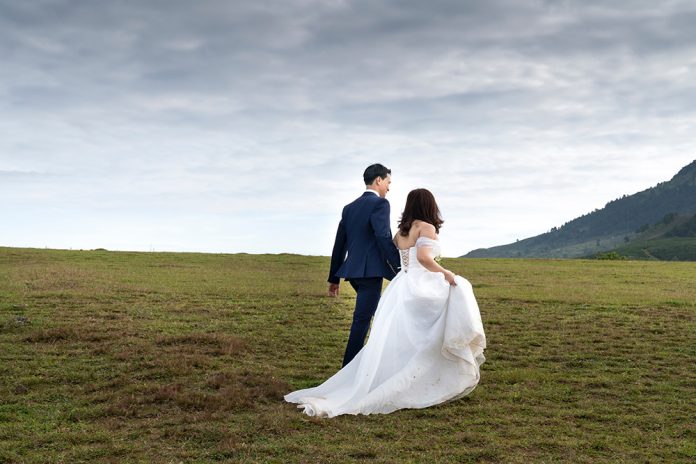 At the American Dry Cleaning Company, we understand how precious your wedding dress is. Our in-house specialist teams are fully trained in the care of wedding dresses, offering an unrivalled level of care and attention that your amazing dress deserves.
We offer a specialist wedding dress dry cleaning service that has been carefully designed to gently lift dirt and stains from the fabric of your wedding dress and to carefully pack it to help preserve your dress in perfect condition for many years to come.
We care for hundreds of wedding dresses each year and our teams have been trained to clean and hand-finish your dress to restore it to perfect condition. We are trained in the care of specialist fabrics, dress design and embellishments that are a feature of wedding dresses.
We don't use harsh petrochemical-based cleaning agents on wedding dresses and instead use gentle, eco-friendly alternatives that are kinder to the planet and the delicate fabrics of your wedding dress.
How American Dry Cleaning Company are different
It is not uncommon for other dry cleaners to use perchloroethylene to clean wedding dresses, which is petrochemical-based, very harsh and is strong enough to damage or completely remove fine embellishments on your dress.
We don't use these harsh petrochemical cleaning agents, and our kinder, greener alternatives will effectively clean your wedding dress without damaging your embellishments or changing the shape of your dress.
The dry cleaning agents we use are gentle on all the fabrics and different elements of your dress from sequins to pearl or glass buttons, which can become worn, tarnished or completely disappear with other types of cleaning solution.
Our dedicated team of wedding dress cleaners and restorers use specialist equipment to make sure nothing is missed. With wedding dresses, there are often hidden dirt and stains that can be easily missed by the naked eye.
For example, champaign spills, drips and splashes are not immediately obvious but could act to yellow your wedding dress fabric over the years if not cleaned away. We use UV light to pick up stains and marks that are invisible to the eye so that they can be effectively treated and removed.
Extra time and detailed examination
We dedicate extra time to examining wedding dresses to make sure they get the care and attention they deserve. Because this is a more specialist and detailed job, our turnaround for dry cleaning wedding dresses is not as fast as for our regular dry cleaning services.
However, if you need your dress back quickly, then do not hesitate to talk to our friendly team. We may be able to arrange a priority service for you.
Wedding dress after-care and preservation
We don't just dry clean your wedding dress and hand it back to you. Our team want your dress to be protected to help preserve the fabrics. While you can have your wedding dress handed back on a hanger with a protective covering, it is not recommended that you hang up your dress on a hanger because the weight of your dress will stretch the fabrics and your dress will lose its shape.
We always fold your wedding dress in layers of acid-free tissue paper, but it is recommended to keep it safe inside a protective box for long term storage. Our team can carefully fold your dress into a presentation box that will allow the fabrics to breathe and protect your dress from environmental damage such as UV rays and dust.
Find out more about our Wedding Dress Dry Cleaning service and book your service today!