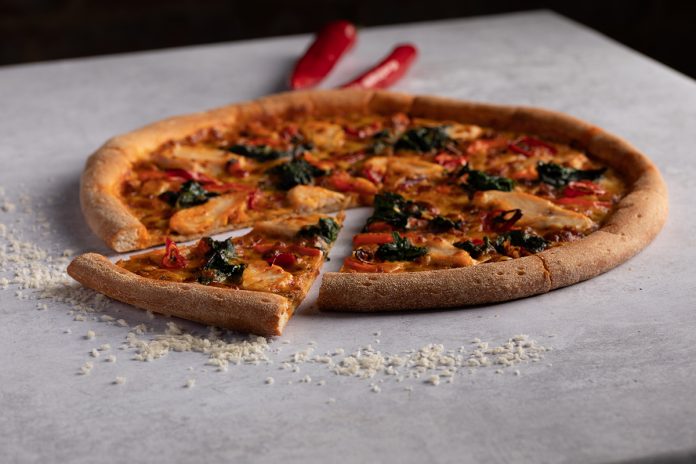 Choosing the gluten-free option is really easy when you order a pizza from the London Pizza Depot!
You don't need to miss out on enjoying a slice of freshly baked pizza with your friends or family when you choose one of our gluten-free pizza options. We make a fantastic pizza base from top quality gluten-free flour.
All of our pizza bases are freshly made each day and hand-stretched by our highly skilled pizza chefs. In fact, our gluten-free pizza bases are so good that your non-gluten-sensitive family and friends will hardly tell the difference!
Ordering a gluten-free option from our extensive pizza menu means you don't have to miss out on a family pizza night or a late-night pizza stop after an evening out in London with friends.
Why choose gluten-free?
For those with celiac disease, eating gluten-free is essential for their health. However, even for non-celiacs eating a gluten-free diet be beneficial for many reasons.
People follow many diets, including dairy-free, paleo diet, intermittent fasting, vegan diet, Mediterranean diet, Atkins diet, carnivore, keto, Weight Watchers, Slimming World, and more.
However, following a gluten-free diet has gained popularity in recent years because many people tend to feel better eating this way. You can still have gluten sensitivity even if you have not been diagnosed with celiac disease.
After eating gluten, some people can experience mild stomach aches, skin rashes and bloating. In these cases, choosing a gluten-free pizza from London Pizza Depot can mean you can still enjoy all the glorious flavour combinations we offer without worry!
You don't need to avoid eating pizza because you have gluten sensitivity.
What is gluten?
Gluten is a protein that is found in grains such as wheat, oats and barley. People with celiac disease have severe gluten sensitivity, and consuming it can lead to various digestive problems.
Doctors also recommend that people with Hashimoto's and hypothyroidism eat a gluten-free diet as gluten can interfere with the absorption of essential thyroid hormones in the body.
Even for those that don't have celiac disease or hypothyroidism, eating gluten in large amounts has been linked to leaky gut or intestinal permeability, which is a gastrointestinal condition that impacts the gut and the absorption of food and essential nutrients.
Foods to avoid on a gluten-free diet
Gluten can be found in grains such as wheat, barley, and rye, and those with celiac disease, wheat allergy, and non-celiac gluten sensitivity (NCGS) all need to avoid food that contains these products.
Foods to avoid include bread, crackers, bagels, flour tortillas and sandwich wraps. Even trendy sourdough bread and rye bread contain gluten and need to be avoided. Wheat-based pasta such as spaghetti and noodles are a no-no, as is gnocchi, dumplings and most snack foods made from grains.
Baked goods such as cakes, biscuits, doughnuts, muffins, pancakes, waffles and pastries are typically made with flour, so they need to be avoided. Breakfast cereals are an easy swap for gluten-free options such as bacon and eggs.
But don't despair! You can still enjoy a wide range of scrumptious gluten-free foods, such as London Pizza Depot's range of gluten-free pizzas on our menu. Why not cheer yourself up with a hot slice of your favourite flavour combination – on one of our gluten-free bases, of course!