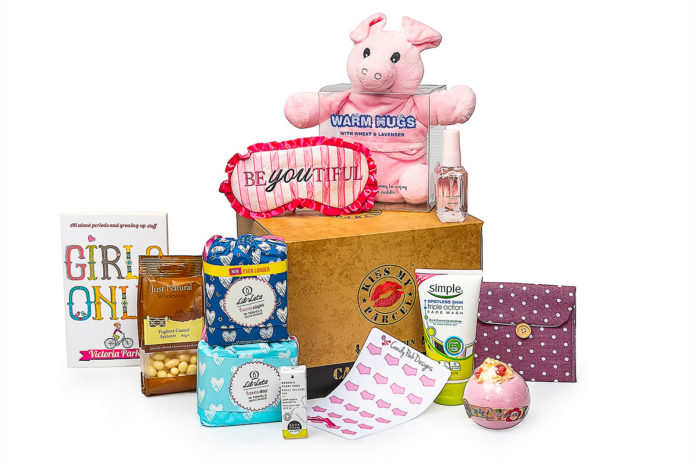 Going through puberty can be an emotional roller-coaster, especially for girls that are starting their period. There is a lot to come to terms with for a girl going through this important time of life, and sometimes it can feel like the end of their childhood as they know it.
Offering them your support, comfort and understanding at this time can often mean having awkward conversations, but things can be softened greatly by a show of love through gifting her with this period care package from Kiss My Parcel.
This unique and caring gift package has been carefully crafted to help deal with the emotions of puberty in a sensitive and fun way that will help to make her feel good about herself.
We like the idea of giving helpful information through The Girls only book by Victoria Parker. This wonderful book will help to answer all the questions young ladies want to ask in a clear, tactful and friendly way using real-life examples.
On the practical side of things, we loved that this very useful parcel also includes sanitary products that will come in very handy, such as the perfect for young girls Lil-Lets Day and Night sanitary towels. For a girl on the move, there is also a very handy handmade travel pouch that can carry three pads in a discreet manner.
There is a delightful mix of pampering, practical and soothing items to be found within this care parcel:
Girls Only Book by Victoria Parker
Organic Clary Sage Oil
Warm Hugs Hot Water Bottle (with Lavender and Wheat)
Lil-Lets Teen Sanitary Towels – Night
Lil-Lets Teen Sanitary Towels – Day
Simple Triple Action Face Wash
Knicker Stickers
Hand Crafted Sanitary towel pouch
Organic Yoghurt covered Apricots
Bomb Cosmetics Jelly And Custard Bath Bomb
Claires Accessories Eye Mask
Ted Baker Body Mist