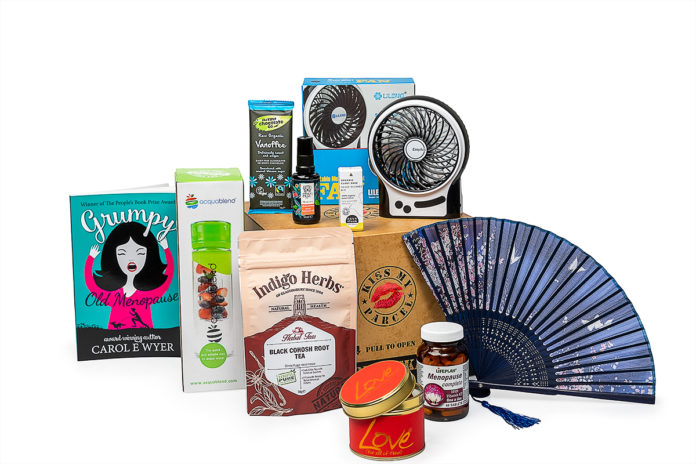 Phew! Menopause can be hot as heck for a lady suffering the hormonal shifts that comes with this time of life. This is why the Hot Mamma Gift Parcel makes an ideal pick-me-up present to give to a loved one navigating the ups and downs of menopause.
Surprisingly, there are very few gift items to be found in the marketplace for a lady suffering the symptoms of menopause. This is why we were overjoyed to discover this wonderful care package from Kiss My Parcel.
The Hot Mamma parcel contains a lot of little gifts that have been very carefully chosen to help with the physical and emotional swings and experiences this time brings, and is guaranteed to bring a smile to her face. There is a lovely mixture of pure essential oils and soothing herbal tea amongst other things.
We especially like the little injection of humour included with the 'Grumpy Old Menopause' book that takes an amusing look at menopause to make you laugh out loud. You can sit and read this book while keeping your cool with the USB powered Portable Fan that is also a welcome and much appreciated inclusion in this unique gift parcel. There is also a beautiful Chinese pattered hand held fan included that is ideal to use while out and about, so you can cope better with a hot flush at any time they strike!
What you will find within The-hot-mama gift parcel:
USB Portable Fan, Light, Adjustable
Organic Clary Sage Oil
Grumpy Old Menopause By Carol E Wyer
Lifeplan Menopause Complete Vitamins
Indigo Herbs Black Cohosh Root Tea
Lily-Flame Love Candle
Chinese Patterned Handheld Fan
Greengate Noni Treatment Facial Oil
The Raw Chocolate Company Vanoffe Bar
Aquablend Fruit Diffuser Water Bottle (Pink)