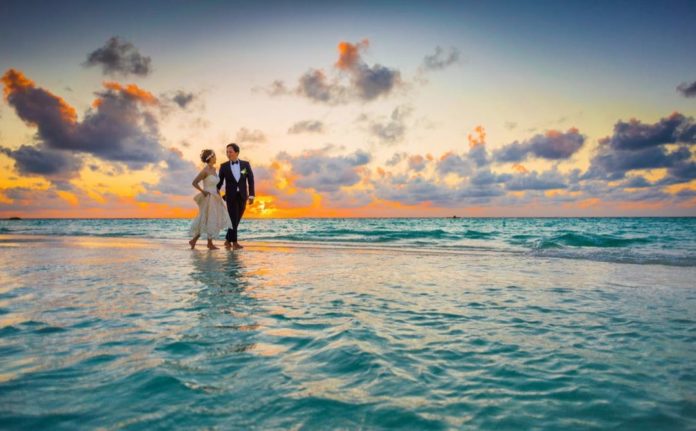 Have you thought about what to do if Mother Nature decides to make it rain on your wedding day? Unexpected downpours are something you cannot control, however there are some things you can do to make sure that the rain doesn't stop play on your wedding day.
Even when you are arranging a summer wedding, you cannot control the weather, especially during a UK summer! For a summer wedding where you plan for some part of it to be out of doors, whether that is the ceremony itself or the wedding reception, try to choose a wedding venue that can either provide some shelter or allow you to erect some temporary cover for the day.
Provide Shelter
If you plan to let your guests enjoy sipping champagne and nibbling at canapés while sitting in the the beautiful gardens of your wedding venue, does the venue offer somewhere else your guests can go if it starts to rain? Some venues will allow the use of a pavilion or other permanent buildings within their grounds at no extra cost, but others may charge an extra fee to reserve outdoor buildings whether you use them or not. It is worth checking up on this before you book.
A marquee is a popular choice for outdoor weddings, but you must think carefully about what flooring you choose to go down. A floor surface that will become too slippery to be safe for your guests is something to consider. Remember that you will have ladies in heels, gentlemen in smooth soled leather shoes, and the very young or elderly family members who may not be too steady on their feet. Consult with the marquee hire company about their flooring options to see which they would recommend.
Brollies at Dawn
Arm your ushers with plenty of brollies so they can ensure that everyone who needs one has one to hand. You can colour-coordinate your brollies if you wish. You can choose a white one for the bride and a black one for the groom – or a colour that matches his suit or waistcoat. You can even get matching brollies for your bridesmaids too.
Handing out brollies is a great way to keep your wedding guests dry as they move between venues. So if you are having your ceremony indoors and you need to move your party across open ground to the shelter of an outdoor marquee for your reception, you can do it in style. Your guests will be thankful for not arriving at the reception soaking wet and having to sit and eat in soggy clothes for the evening.
Alert your Wedding Photographer
If you are hiring a professional wedding photographer or videographer, then they will already be well versed in shooting in rainy conditions. If the weather for your big day looks to be on the wet side, then make sure you check with your photographer on the morning of your wedding. They may suggest a change in plan for your photographs. An open-air shot of you in the gardens may need to be changed for a more sheltered spot under some trees, or inside a gazebo.
Your brollies could become a creative prop for your wedding photographs, and don't forget that overcast weather can often make for better pictures. Bright sunshine can often wash out the fine detail of your wedding dress where lower light levels can actually show them off to their best.
Catering back-up plan
If you are having your wedding professionally catered, then the catering company are usually open to some flexibility about their timings. Cold buffet spreads are a lot easier to manage as they are usually laid out in advance ready for the reception. It will not matter so much if it is raining outside and you decide to move the dinner ahead by half an hour or so. This way your guests can enjoy their food while it is raining, and then move outside once the weather picks up.
If you are having a hot sit-down dinner, consult with your catering company to see if they can arrange to bring out the dinner a little earlier or later than planned. If it looks like rain later in the day, you may want to delay dinner for a while so your guests can enjoy being out of doors for a bit longer while it is dry, then move under cover as the rain comes in.